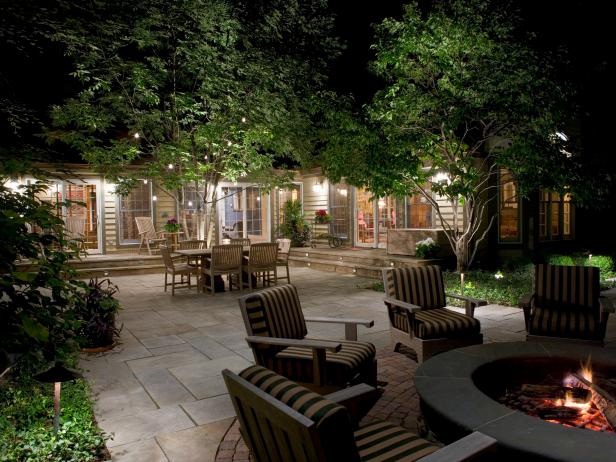 A well-lit landscape should have both functional and decorative light fixtures. In this outdoor space, wall sconces on the house provide adequate illumination for entertaining, while the garden fixtures and the lights strung through the trees bring a whimsical feel to the patio at night.
Summer is coming soon and you will probably want to be spending more time outdoors! One of our favorite aspects of a home is a well put together outdoor space. The key to making this your favorite part of your home? Great lighting! We love being an electrician who serves the Highlands Ranch area, and we want to help design the porch and yard of your dreams! Take a look at your yard and think about how you would like it to look. If you want, even sketch out some ideas. Let us know these ideas so we can work together to create a beautiful getaway just outside your door.
Before you invest in any landscape lighting, ask yourself what your purposes are for wanting illumination in your backyard. Perhaps you want to set a soft, romantic mood during the evening hours. Maybe you have a bench or a shadowy garden corner you need to illuminate for security reasons. A path leading through the garden may require landscape lighting to mark its boundaries. You might want to highlight some features of your backyard like a water fountain or pond.
After you have defined your reasons for wanting to add landscape lighting, sketch your yard. Include in the sketch existing lights, buildings, benches, trees and shrubs, as well as the vegetation and decorations in the garden. Each of these items will reflect light or absorb it. Estimate the height of each of the objects, especially the foliage.